In 2019, Hopin was founded to unlock access to events from anywhere. Then the pandemic happened...
Hopin exploded! In the absence of in-person events, the market was clamoring for virtual solutions to host immersive, shared event experiences. Two years later, Hopin broadened its product offering across 3 categories: Events, Content, and Collaboration. The brand was poised to embark on an exciting new chapter of transcending category competitors with a bigger, more meaningful narrative.
STAMPING SOME NEW INK IN HOPIN'S PASSPORT.
The 2020 pandemic accelerated the need for a platform like Hopin. However, by 2021, our collective cabin fever reached a fever pitch. The desire to attend experiences IRL meant Hopin had to prove it was more than a one-trick pony for virtual events. Heading into Q2, Hopin's pipeline creation and inbound sales contacts flattened. To stop the bleeding, it was vital to shift the perception of the product and drive awareness to Hopin as an all-in-one platform for planning, producing, and sharing incredible event experiences, both virtually AND in person.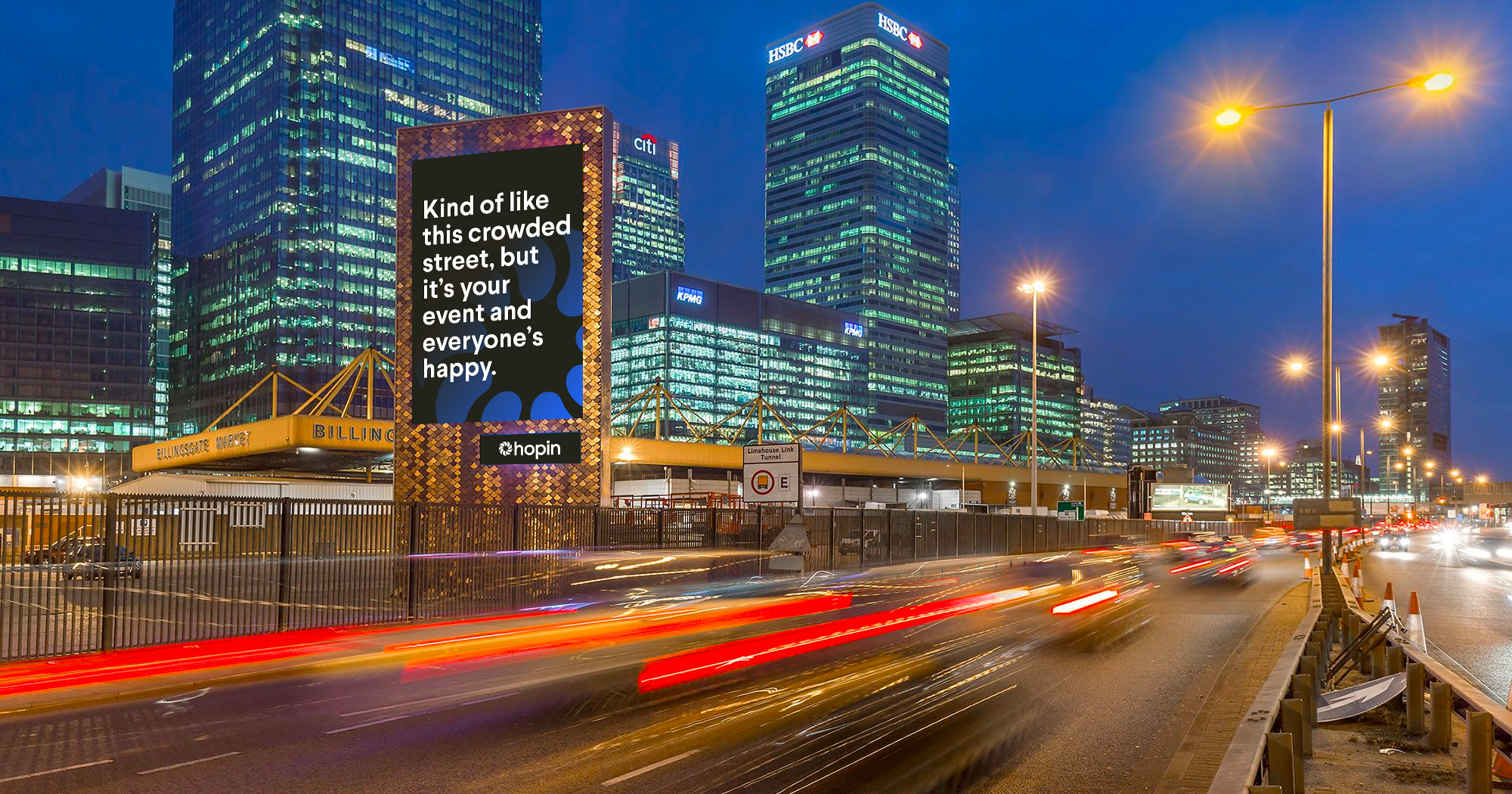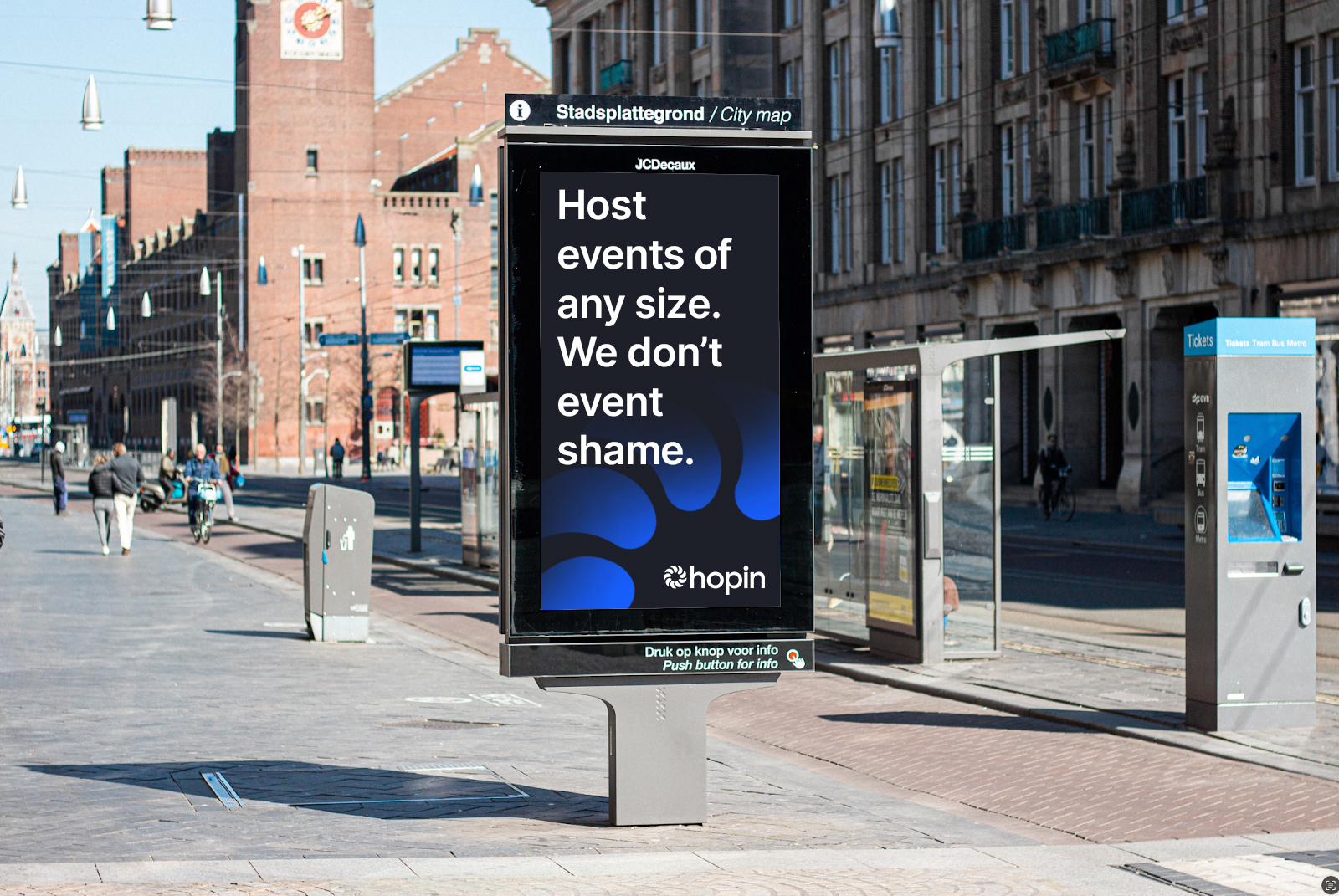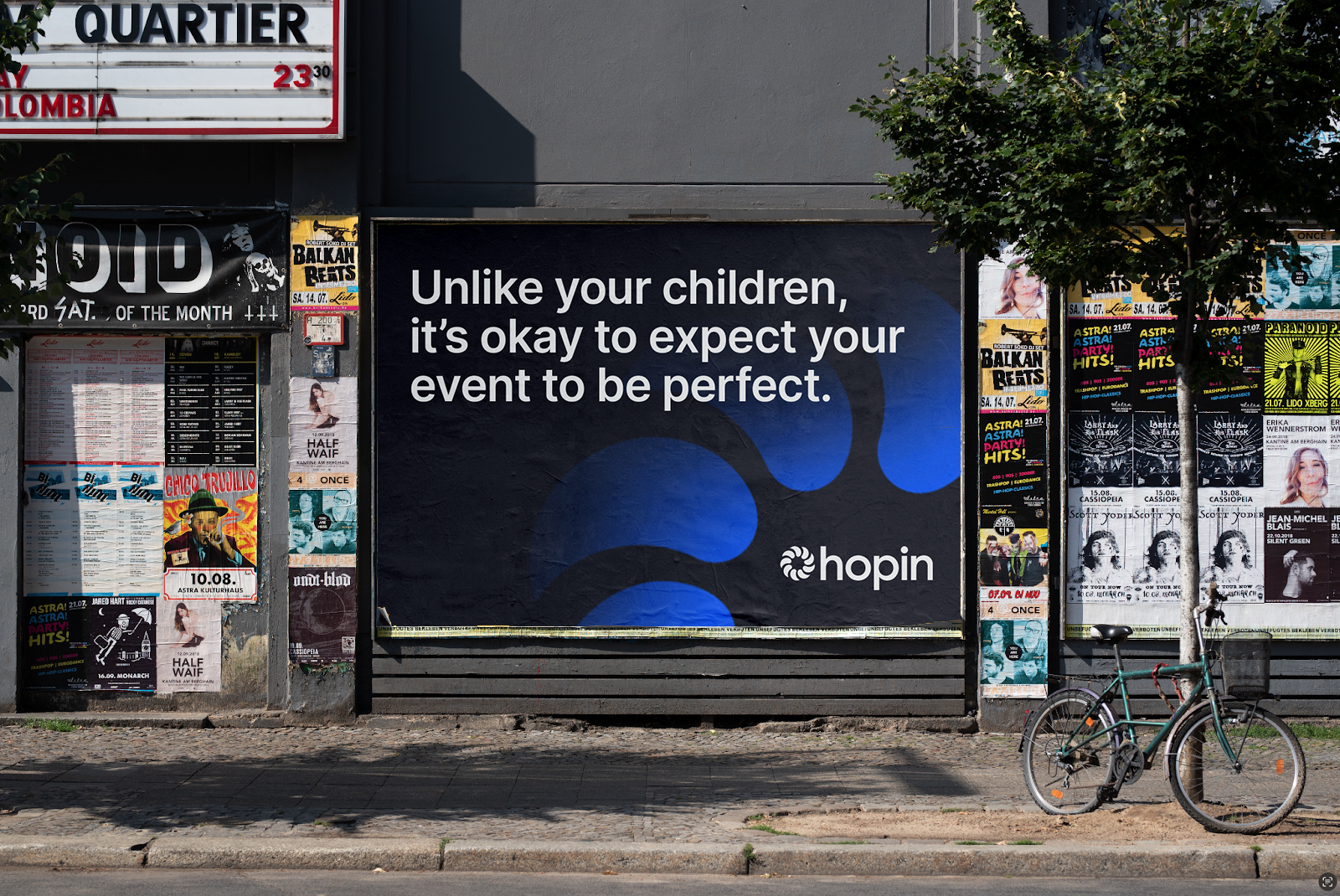 109%
increase in web traffic
GIVING THE WORLD A REASON TO BELIEVE.
With a business crisis temporarily averted, and a new brand strategy in-hand, it was time to reveal Hopin's larger, more emotional brand purpose: to make the world feel closer. Steering away from functional, staid category conventions, we developed a unique creative motif that visualized what it meant to "reach" for that feeling of closeness. IMEX AMERICA 2021 and the bright lights of Las Vegas became the launch pad. It was time to remove the phrase "you had to be there" from the lexicon. Maps are not mandates and with Hopin you can "be there from anywhere."
remote work collaboration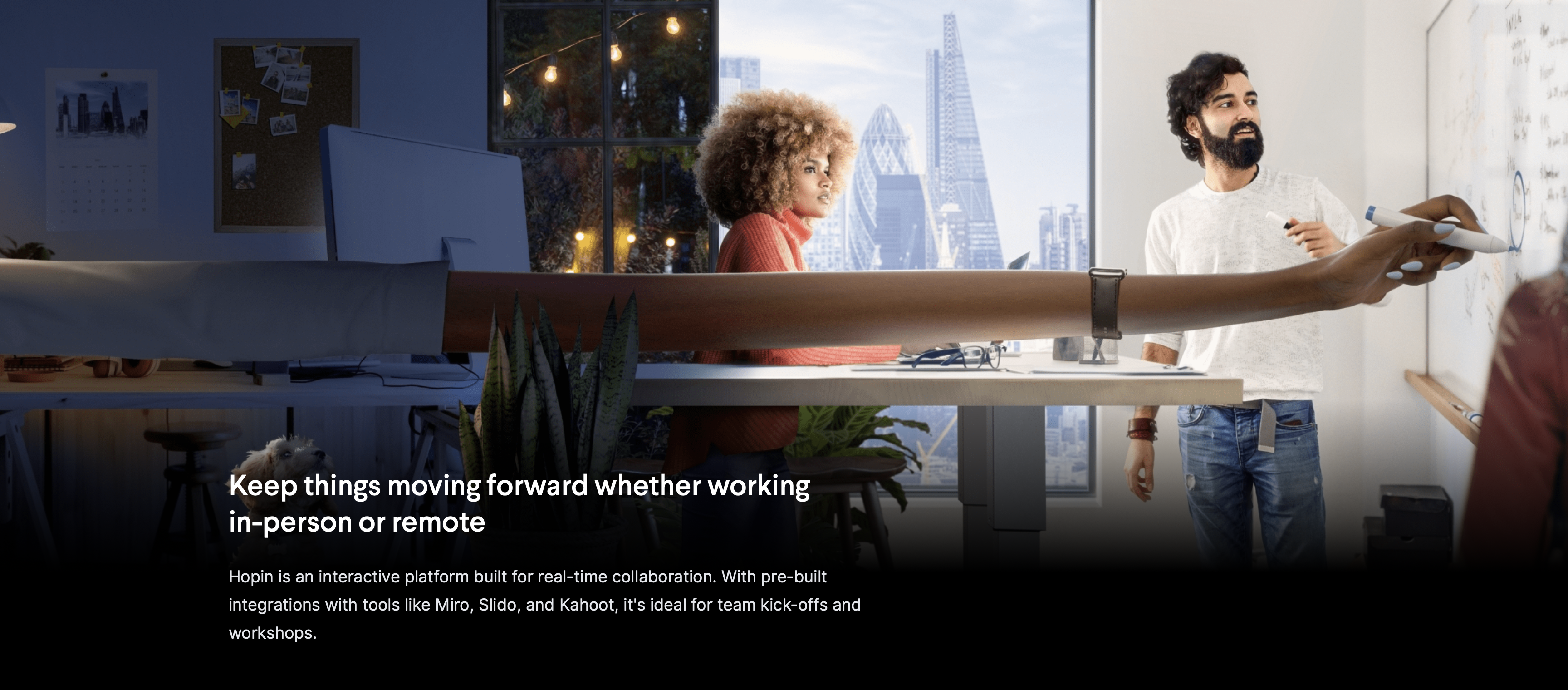 virtual happy hour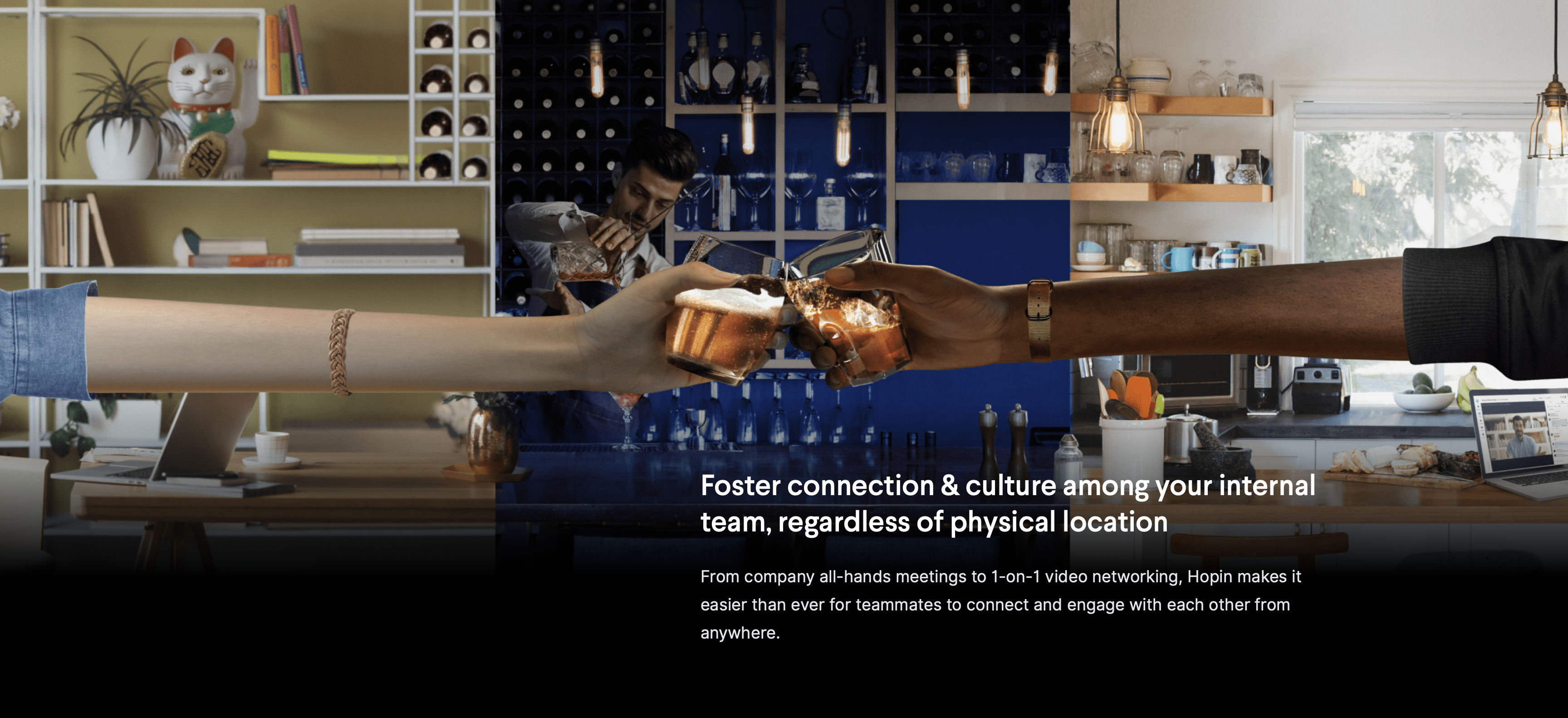 Digital/OOH Applications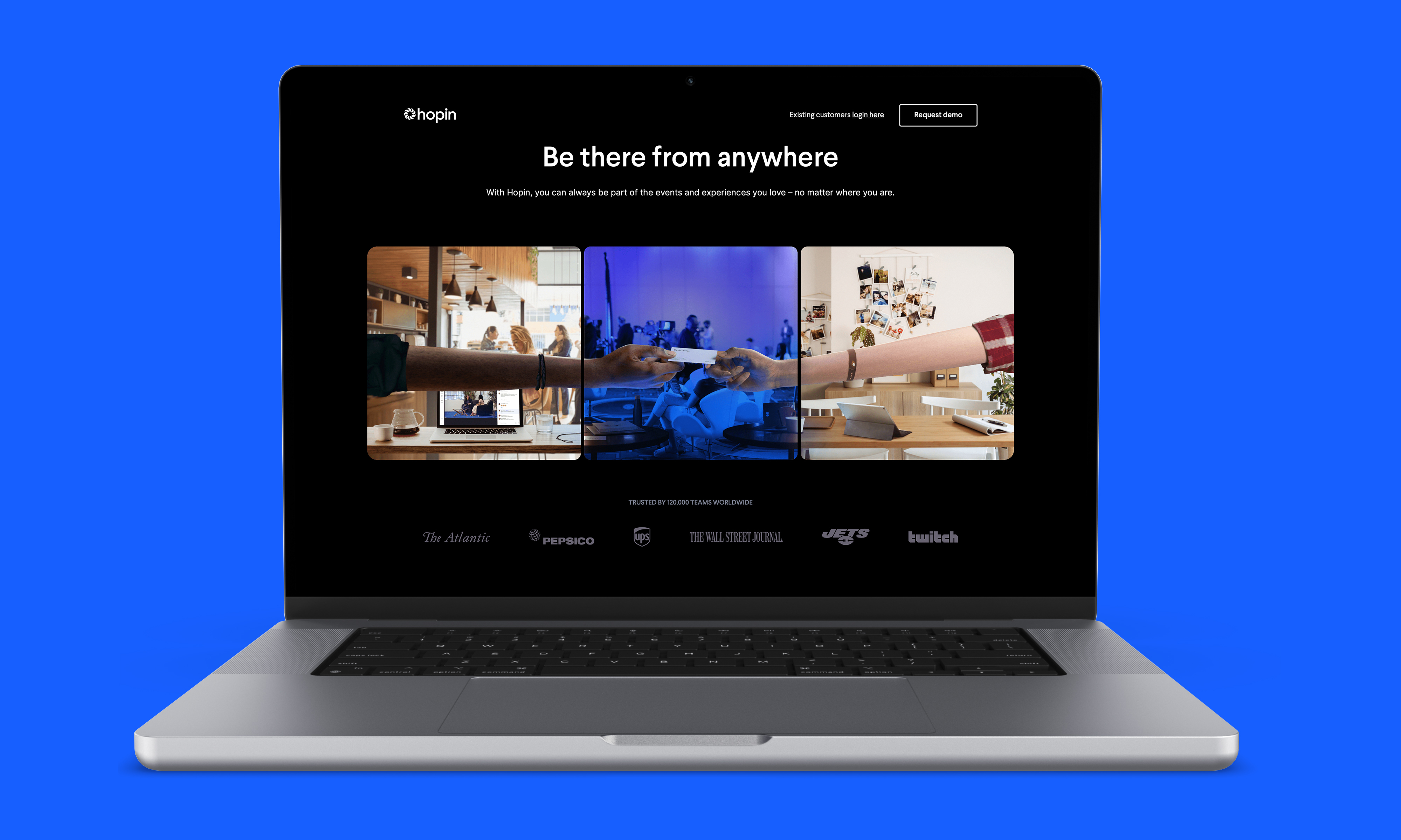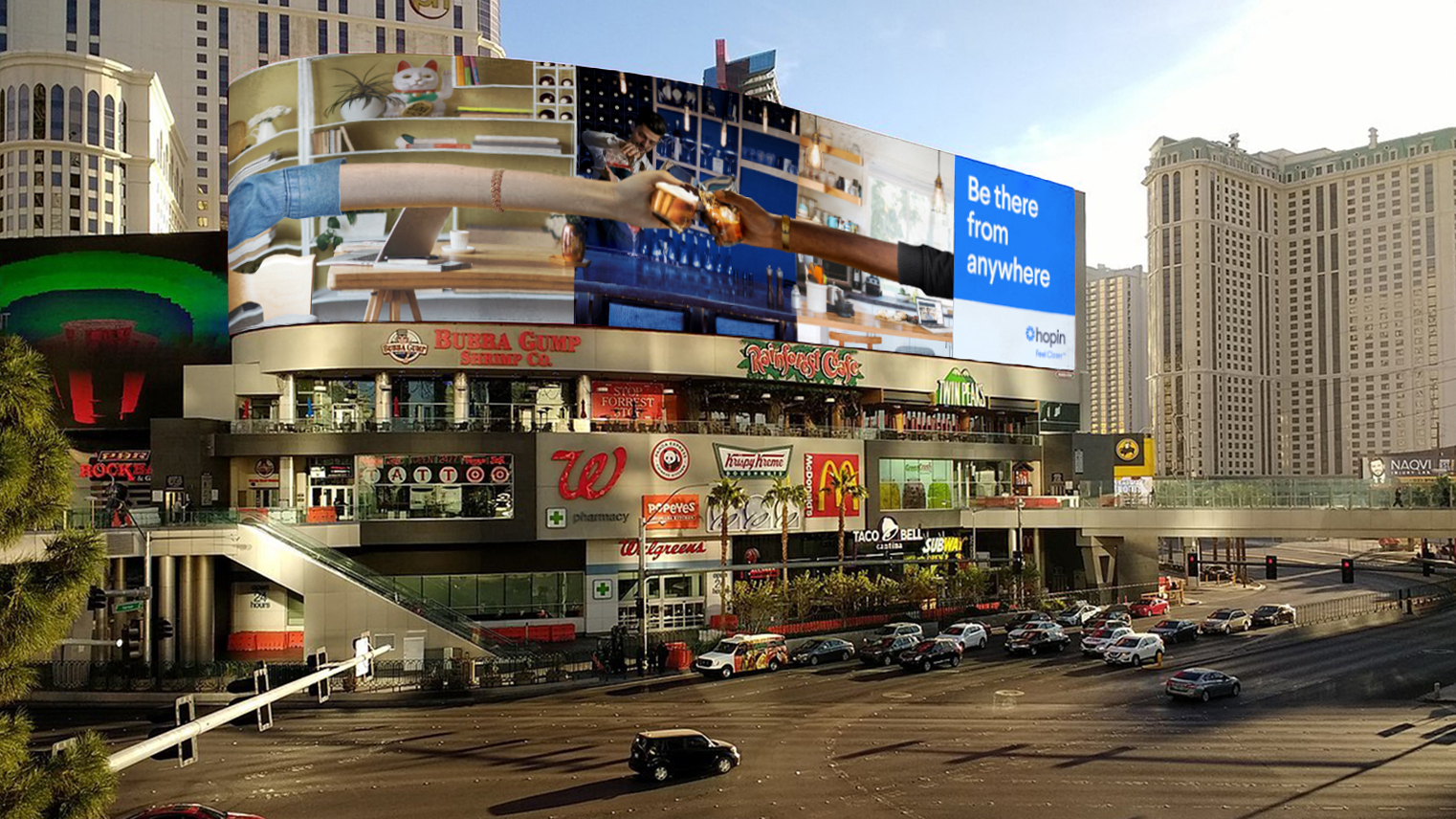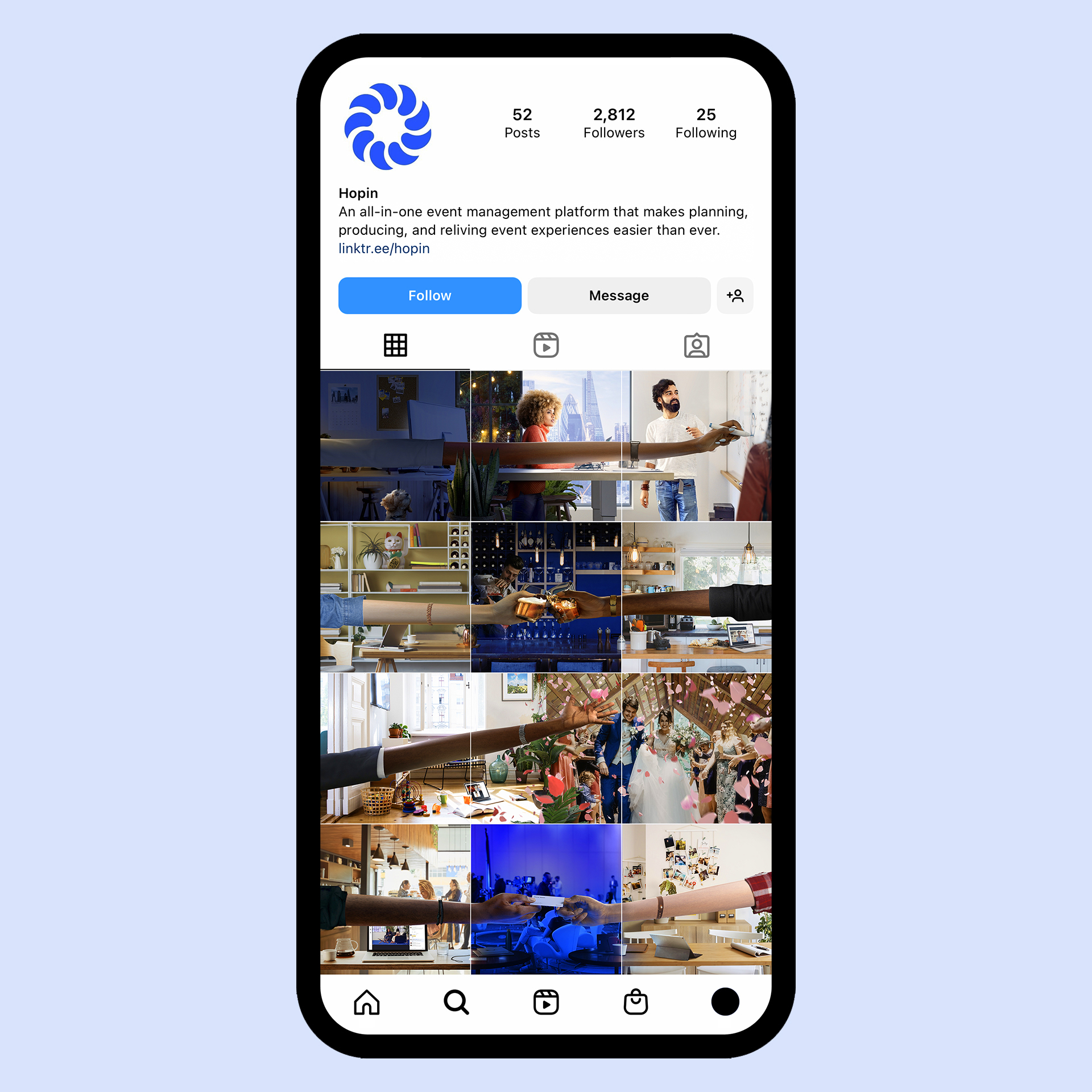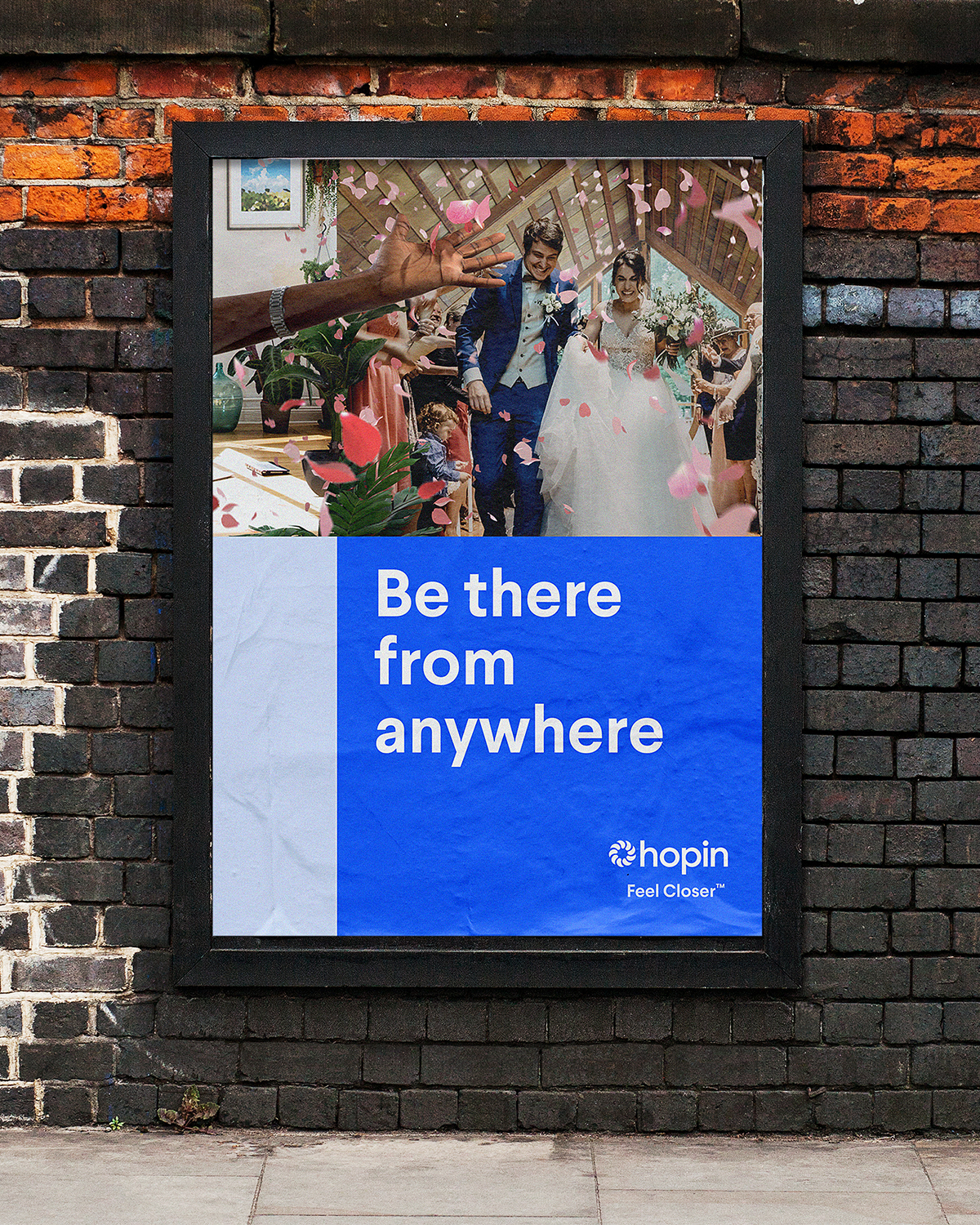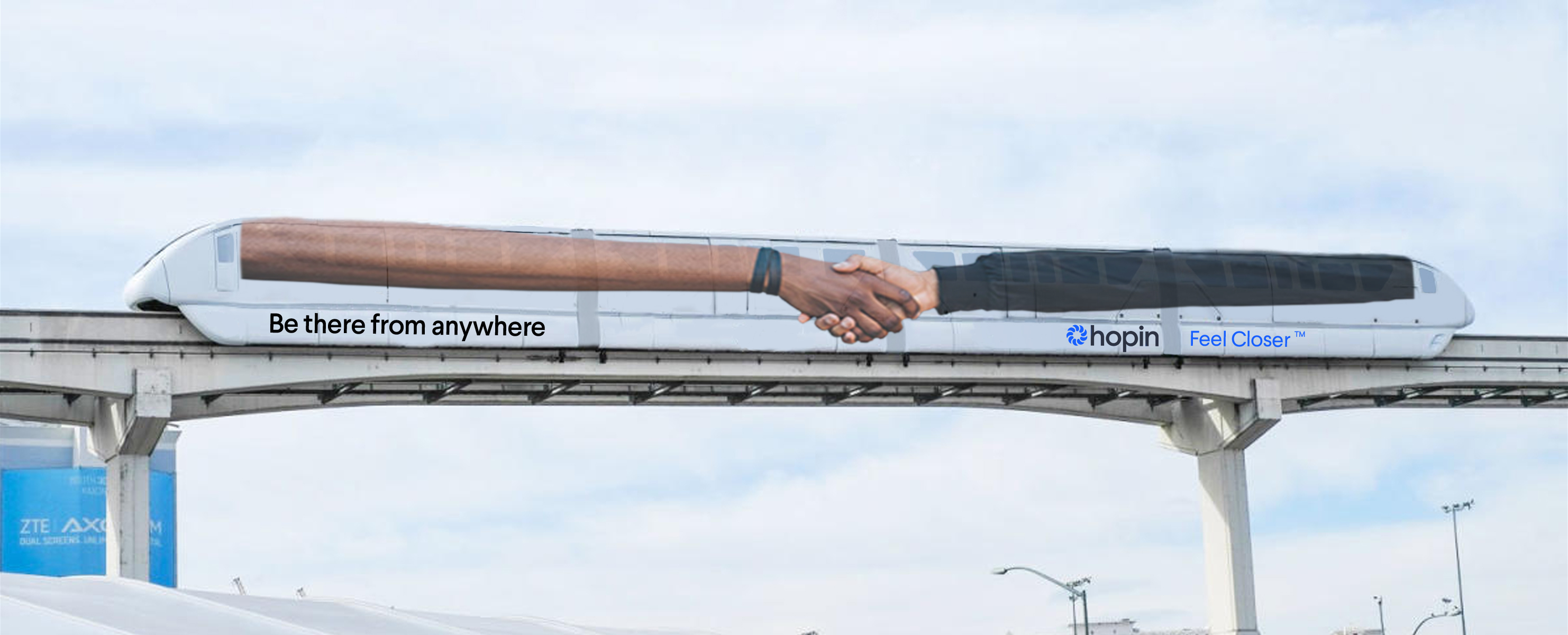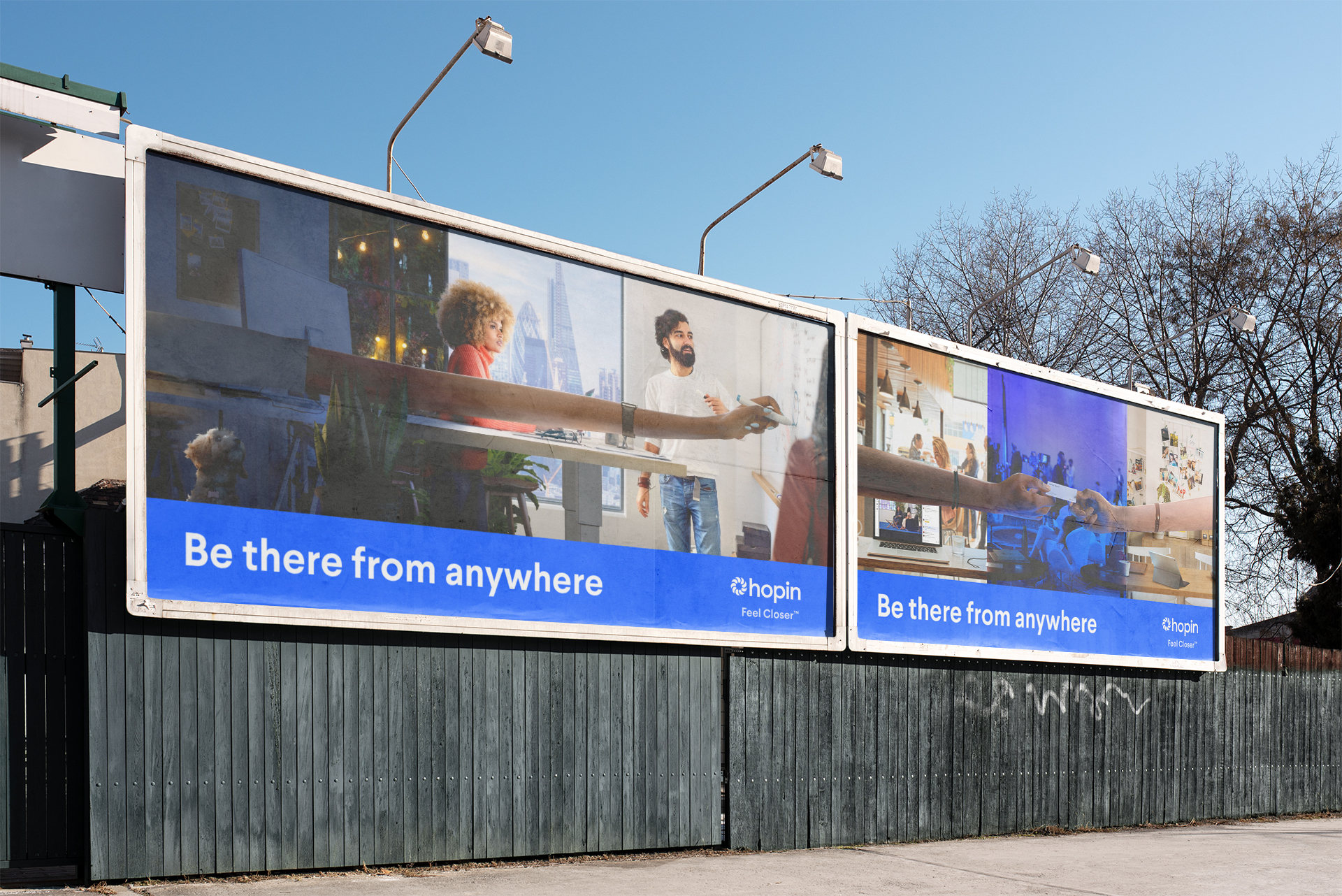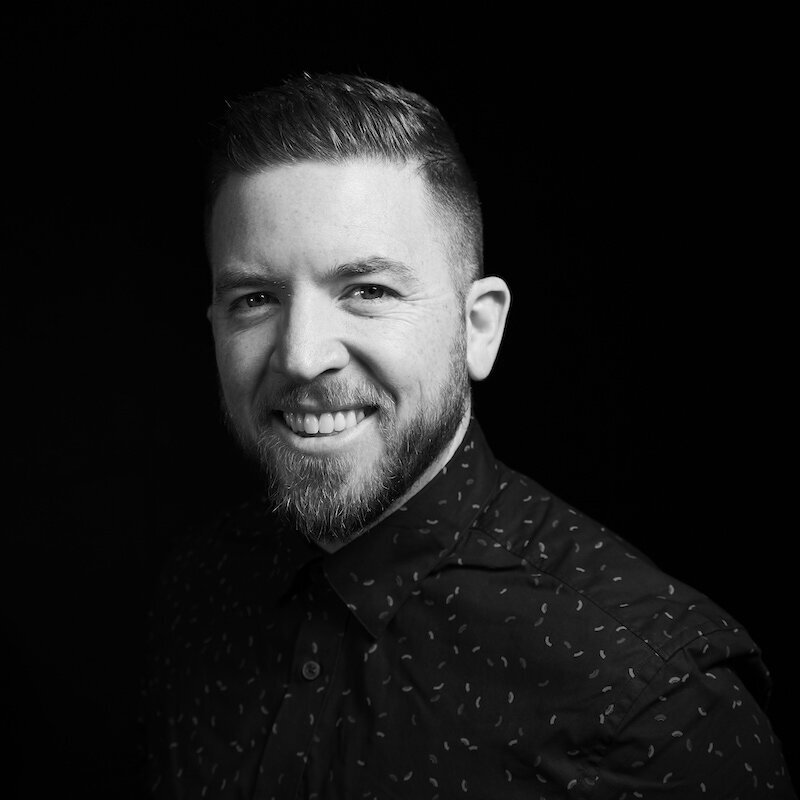 "Bokeh is fearless. With less than 5 weeks from our first conversation, they agreed to white knuckle this sprint with us and produced amazing creative work for our company's first ever international brand campaign!"
— Cam Ferrin, Fmr. VP of Brand
DEVELOPING A VIDEO DESIGN SYSTEM TO DRIVE PRODUCT ENGAGEMENT.
Video is a crucial component to Hopin's product education and feature awareness. So, we created a video template to help showcase these features and communicate their value proposition in an extremely polished, engaging manner. Within these ten :60 videos, we placed an emphasis on ease-of-use and reinforcing human connection as a critical element of exceptional virtual experiences.
BUILDING ANTICIPATION IN A COMPLETELY NEW SPACE.
To this point, Hopin had been primarily focussed on communicating its value for event experiences. However with the launch of Session, Hopin's design-first video conferencing and collaboration platform, the brand was looking to spark interest, tease a new experience, and signal to the market that Hopin was officially more than events. within a completely new category.
To the people who put up with our Hopin puns:
Anthony Kennada, Cam Ferrin, Galina Mishnyakova, Ruth Ingram, Sharadhi Patel, Lindsey Latham, Dave Schools, Lauren Sommers, and Mike McConnon.